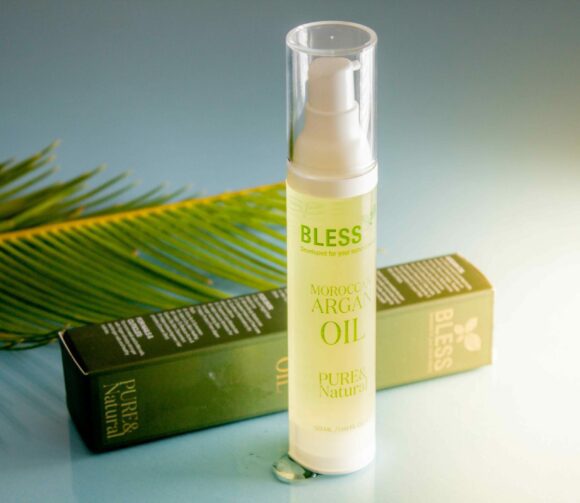 Description
is a fairly powerful 

oil

that looks, smells, and feels luxurious on the Hair, Skin, and Nails, Thanks to its golden hue, Nutty aroma, and pleasantly light texture.
It is rich in Beneficial nutrients such as Vitamin E, Fatty acids, Squalene, and Anti-Oxidants, it can do wonders for your Hair, Skin, and Nails.
Argan

 

oil

can moisturize your hair and scalp and protect your hair from everyday damage by reducing breakage and split ends and may help prevent hair loss for thicker, fuller hair. Besides moisturizing and healing skin and strengthening nails.
FOR HAIR:
1- Leave-In Hair Conditioner
2- Overnight Deep Conditioning Mask
3- Promotes Hair Growth and Improves Hair Thinning and Split Ends.
4- Hair Styling Softness And Shine.
5- Treats All Types Of Dandruff.
FOR SKIN:
1-Day and Night Face Moisturizer.
2- Whole Body Moisturizer.
3- Skin Toner.
4- Exfoliant.
5- Cracked Heels and Feet Treatment.
6- Soothes Atopic Dermatitis and Psoriasis
( inflammatory dry skin conditions).
7- Chapped Lips Moisturizer and Exfoliating Lip Scrub
8- Fades Stretch Marks and Wrinkles For Younger Skin.
9- Protects From diaper Rash and Prevent Skin Infections.
10- Acts As A Sunscreen.
11-Aids In Skin Healing.
12- Helps To Reduce Acne & Eases Oily Skin Discomfort.
13- Razor Bumps And Burns And Ingrown Hair pimples (Goose-Skin).
FOR NAILS And Cuticles:
No more weak and brittle nails, with Argan oil enjoy stronger and longer nails and healthy cuticles.